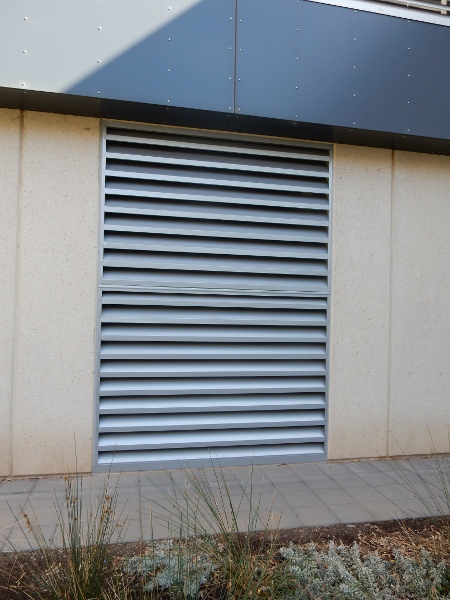 The Element Control Systems Silent Screen Acoustic Louvre systems are designed primarily for both sound attenuation purposes whilst also providing protection against the ingress of water. Vermin proof mesh is fixed to the rear of the system, when required, to prevent birds and other small animals form entering the structure. These types of screening louvres are used commonly to provide for air intakes and exhaust outlets to reduce mechanical plant noise whilst allowing air movement against minimal pressure loss.
A choice of colorbond, aluminium or zincalume finish is available. Supported and connected by internal structural cleats, the Element Control Systems Silent Screen Acoustic Louvres are installed in individual panels with maximum dimensions of 2200mm wide x 2500mm high. When these measurements are exceeded the louvres are supplied in sections that can be attached to one another on site, with cover strips of the same finish.
Cost savings result from the ability to meet exact requirements with versatile standard components. The unique design and state of the art engineered machinery enable the louvre system to be manufactured in precise dimensions to suit individual needs. This benefit enables faster turn around times in product delivery and associated cost reductions with on site assembly and installation.
For detailed specifications and further applications click on the Brochures button below.