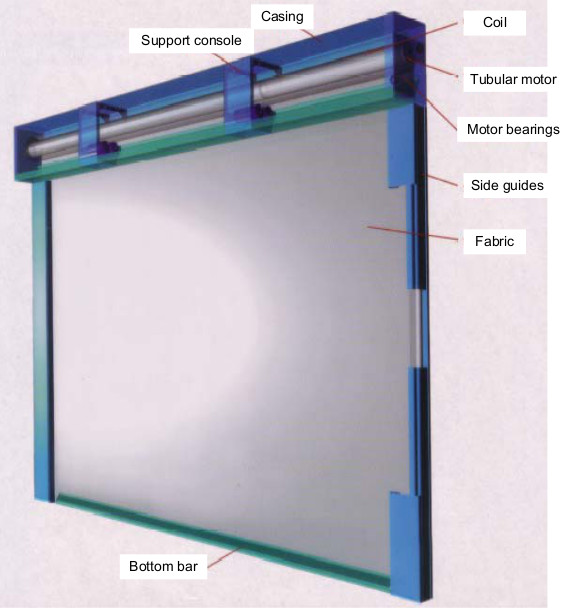 Fibershield Fire Curtains (Compact Flexible Automatic Fire Barriers)
Fibershield automatic fire curtains are synonymous with quality and reliability. They are compact, light weight and ideal for protecting both small and large horizontal and vertical openings. Fire ratings up to two hours can be achieved.
Fibershield Fire Curtains have been engineered to complement the building design, allowing Architects and Building Designers to maximise internal space. The compact design means Fibershield is easily integrated into existing buildings. Fibershield overcomes the space and aesthetic restrictions of other types of barriers such as roller shutters and sliding fire doors. The system is unobtrusive and can be colour coded to suit the interior (or exterior) design. It also requires much less space and structural support.
The Fibershield system has approvals in accordance with AS1530.4 for fire resistance. A patented smoke containment sealing system is also available to provide combined fire and smoke protection (refer to Fiberseal Smoke Curtains).
KEY FEATURES
Fire tested in accordance with AS1530.4 (Up to 2 hours)
Achieves smoke curtain (600 oC for 30 minutes) performance by default
Hidden from view when in nonfire mode
Vertical and horizontal applications
Lightweight, ideal for large openings/windows
Cost effective
Simple, reliable and easily maintained
Suitable for internal and external use
Fibershield automatic fire curtains consist of a compact header box and flexible curtain connected to a control system. The compact header box dimensions means this system can be easily integrated into existing buildings.
The specially reinforced and coated glass fibre fabric (curtain) offers superior radiation shielding properties and has been impact tested with a 200kg weight subsequent to a 120 minute fire test.
The system is designed to activate on receipt of an alarm signal from the master fire control panel or our stand alone control system that allows up to 40 smoke detectors to be connected. Alternatively each barrier can be individually operated from a low-level surface mounted key switch, push button or break glass mechanism.
As with all of our curtain and screen systems deployment is by gravity (gravity fail safe). The rate of descent is controlled mechanically to approximately 4.5m/min to significantly reduce the likelihood of injury to occupants that may be passing through. Fire and/or smoke curtain systems that do not have this gravity fail safe function do NOT comply with the Building Code of Australia requirements for fail safe in the event of power failure. (Refer to BCA Clause C3.6 for example).
Fibershield can be equipped, if required, with a sprinkler system. The combination of a specific sprinkler system design combined with the fire curtain achieves fire and the equivalent to an insulation rating of up to 120 minutes.
Windowshield Fire Curtains
Windowshield is specifically designed to provide a cost effective solution to protect windows in external walls close to boundaries.
Windowshield's operation is simple and reliable, containing no motors or electronics. The system is normally held in the fully open position by a corrosion resistant fusible link. On activation, the curtain drops by gravity to protect the window opening. It is re-wound manually into the head box.
The compact design overcomes the space and aesthetic restrictions of other types of barriers such as roller shutters and drencher systems. The head box and side guides are constructed from galvanised steel and are also available in powder coated colours.
Windowshield is available in any size increment up to the following maximum dimensions (W x H): 4000 x 1500mm and 1200 x 1800mm. For sizes outside of this dimension, please refer to our Ecoshield and Fibershield product data.
Windowshield has been fire tested in accordance with AS1530.4 and meets the requirements of AS1905.2 and Building Code of Australia Clause C3.4.
KEY FEATURES
Suitable for both new projects and retrofit applications
Cost effective solution
1 hour (-/60/-) fire rating
Ideal fire protection solution for internal or external operable windows.
Excellent radiant heat shielding properties
Unobtrusive design
Easily maintained
Light weight
Available in a range of sizes
Available in powder coated or galvanised finish.
For detailed specifications and further applications click on the Brochures button below.