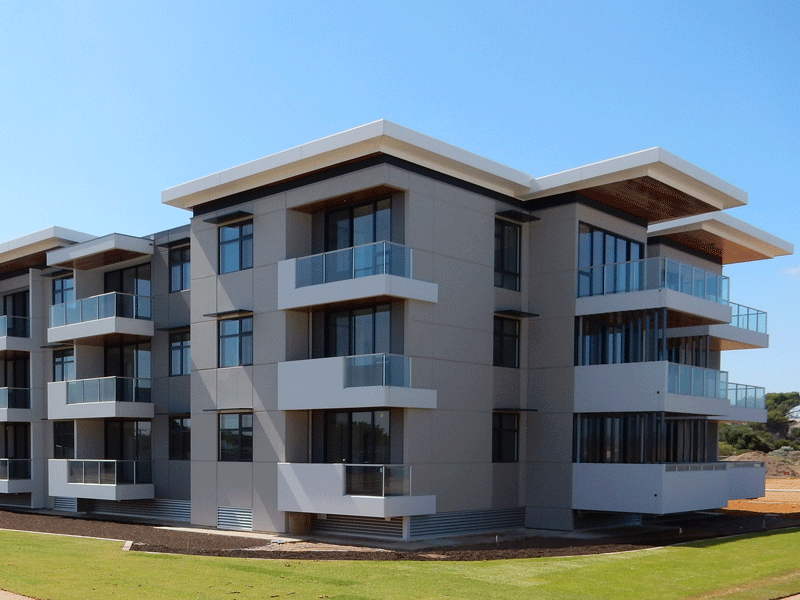 Based on aluminium honeycomb technologies that evolved through research and development within the aviation industry, Element Cell Sun Control Panels are exceptionally strong, flat and lightweight. Comprising of pre-coated aluminium skins bonded to an expanded aluminium honeycomb core, Element Cell Sun Control Panels can vary in thickness, size and shape that can be curved and folded to suit specific requirements.
These extremely rigid panels can be installed in a multitude of orientations that can span vertically, horizontally or in inclined positions and can be fixed to a variety of sub-frames.
This versatility enables economical use of varying configurations where the requirement is to control extremes in temperature caused by direct sunlight onto a building and also to provide a pleasing visual effect across a building façade.
Element Cell Sun Control Panels are a cost-effective solution minimising the effects of direct sunlight through the reduction of passive solar radiation, thus reducing the load on internal air conditioning systems.
APPLICATIONS
Custom designed solutions to suit a variety of sun control applications.
Enhance the exterior facades of new and existing buildings
Suitable for commercial and residential buildings.
MATERIAL
Pre-treated aluminium honeycomb fixed within pre-coated and roll-formed aluminium skins.
A range of standard and customised powder coated colours are available.
All parts are covered by the Element Control Systems standard warranty.
For detailed specifications and further applications click on the Brochures button below.